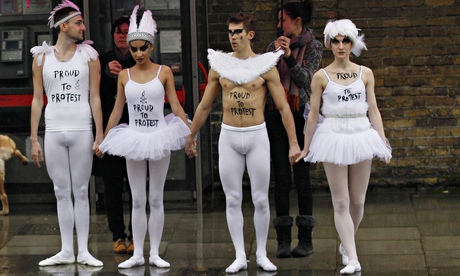 Human rights campaigners' ballet dancers wait to cross a road to protest outside the Russian Embassy in London
calling for an end to President Putin's crackdown on human rights. Photograph: Sang Tan/AP
Shame on you, homophobic Russia! Shame on you, homophobic Mr. Putin! Shame on you, homophobic Russian politicians and criminal anti-gay "activists" and gangs!
A Russian court has fined a newspaper editor for publishing an interview with a gay school teacher who was quoted as saying "homosexuality is normal."
Alexander Suturin, editor of the Molodoi Dalnevostochnik, a weekly published in the far eastern city of Khabarovsk near the border with China, was ordered to pay a fine of 50,000 rubles (£870) for violating a law that bans "gay propaganda" among minors.
After launching an investigation, an official of the Russian state's media watchdog, the Federal Mass Media Inspection Service, pointed to a quote by Yermoshkin: "My very existence is effective proof that homosexuality is normal."
She said: "This statement goes against logic. By offering it to underage readers, the author is misleading them about the normality of homosexuality."
The "gay propaganda" law has drawn strong international criticism amid calls for a boycott of the winter Olympics in Sochi, which is due to start on Friday (7 February).
MOST READ
---
PARTNER NEWS
---
BLOGS
---
OPINION
---
RIA Novosti
Published: January 31, 2014 (Issue # 1795)
Protesters at one of the many "anti-gay" rallies held in St. Petersburg last year.
Photo: National-Democratic Party / VKontakte



Anti-gay propaganda legislation introduced in Russia last year has been used for the first time against media with the fining of a newspaper editor who reported about a school teacher allegedly fired because he was gay.
Alexander Suturin, editor-in-chief of the Molodoi Dalnevostochnik newspaper in the Far East, was fined 50,000 rubles ($1,400), local news website Amurburg.ru said Thursday.
Suturin, who blamed the verdict on a "shadow morality police" and "brown plague," said he would appeal.
Molodoi Dalnevostochnik, the oldest publication in the Khabarovsk region, came under fire because it bears a label warning people only above the age of 16 to visit its website, Amurburg.ru said.
A law passed in June prohibited "promotion of nontraditional sexual relations among minors." The age of majority in Russia is 18.
The story in questioned, titled "A History About Gay-ography," dated back to September.
It detailed the claims of a local geography teacher and gay rights activist who said he was pressured into quitting his job at school and assaulted by neo-Nazis because of his sexuality.
Suturin denied in court that the report constituted "propaganda" of gay relationships.
The law against "gay propaganda" has provoked a backlash in the West and prompted calls to boycott the Sochi Olympics taking place next month.
The law prohibits informing underage children about the "attractiveness of nontraditional sexual relationships" and giving them "distorted ideas about social equality of traditional and nontraditional sexual relationships."
President Vladimir Putin has repeatedly claimed in public, however, that the law does not amount to discrimination of the lesbian, gay, bisexual and transsexual community.
On Friday, the most expensive Olympic Games ever open in
Sochi
. A total of £30bn has allegedly been spent – three times the cost of the bill footed by London in 2012 – much of it on imported snow, bribes and the construction of an antiterrorist "ring of steel", manned by 40,000 troops on alert for Islamic militants and suicide bombers.
Vladimir Putin
, president of the Russian Federation, the master of machismo, has his reputation to preserve as protector of his people not only against the carnage that urban warfare brings but also from the courageous Russian protesters, determined during these Winter Games to challenge the homophobia that has recently spread through Putin's domain. This is a civil war, waged by citizen on citizen, legitimised by a law passed last year prohibiting "propaganda of non-traditional sexual practices" among minors but having a horrendous impact on the whole homosexual community.
Last month, Putin was asked about his
attitude towards gay men and women
. "One can feel calm and at ease," he instructed the questioner. "Just leave kids alone, please." The thuggish and unpleasant conflation of homosexuality and paedophilia has fuelled hostility and fear, triggering extreme violence and in the case of at least one young man,
tortured in Volgograd
, a terrible death. A Channel 4 Dispatches documentary,
Hunted
, on Wednesday will reveal some of this vigilante horror.
In December, the scale of the attack on human rights was captured in
Young and Gay in Putin'sRussia
, a searing
documentary
made by the charity Stonewall and
Vice
magazine. In the film, available online, Nikita Gurijyanov, 17, a brave LGBT activist, details how vigilantes hunt down gay teenagers, film their beatings, pour urine, "holy water", on the target to "cleanse" them of their homosexuality, phone the victim's parents and then place this base bullying online, a permanent perpetuation of rank humiliation.
Alexey Mukhin, director general of the Centre for Political Information, a state news agency, is the author of Homopoliticus, a publication said to have influenced the anti-gay legislation. Gays, he explains on camera, are foreign agents, sponsored by western liberalism.
What they need to do is return to "the closet … a very big and comfortable closet".
Vitaly Milonov
, who drew up the legislation and is also part of a vigilante group called Parental Control, says: "Tolerance tells us to understand the perverts." He points out that 85% of the Russian public support the law, as does the highly influential Russian Orthodox church. This is homophobia at its most dangerous, wrapped in the flag of motherland and religious "values".
Gay activists in Russia have requested that the Games are not boycotted. Their hope is that the rainbow hues that are now deemed highly subversive in Russia as a promotion of homosexuality will become the unofficial colour of the Games. The rainbow-hued uniform of the German athletes will send a powerful message.
European leaders have decided to stay away. President Obama has chosen
Billie Jean King
, a gay athlete, to lead the delegation to represent the US. Britain's broadcasting team is led by
Clare Balding
, in a civil partnership with Alice Arnold. Shamefully, the
International Olympics Committee
has steadfastly refused to criticise Russia, saying it believes assurances that there will be no discrimination.
In January, in Kenya, writer, satirist and intellectual
Binyavanga Wainaina
came out
by publishing another chapter in his life story, entitled: "I am a homosexual, Mum". "When you look at a map of
gay rights
around the world," he wrote of Africa, "why is ours bright red?" Russia is not alone in its homophobia. In the past several months, across Africa new legislation has been bought in and existing laws made harsher against homosexuality. According to
Amnesty International
, 38 African countries have anti-gay legislation including Uganda, Nigeria, Zambia, Zimbabwe and Malawi.
Last month, Nigeria's president,
Goodluck Jonathan
, signed the same-sex prohibition bill, a law that targets homosexuals, those who support their rights and those who fail to report those suspected of homosexual activity. A law that has the support of 90% of the population of 170 million, both Muslim and Christian. Discrimination is always ugly, but why are we seeing its ferocious manifestation across Africa, Russia and India too (Delhi recently repealed a more liberal law) at this particular moment in time? And how can it be countered?
According to Stonewall
, 78 countries have laws banning same-sex activity, including five that impose the death penalty. Many are former outposts of the British empire. It was in 1860 that Britain passed homophobic laws banning "carnal intercourse against the order of nature with any man, woman or animal". The laws weren't repealed until the 1960s. At the end of next month, the move towards human rights for all is finally achieved in England and Wales, when the
Marriage (Same Sex Couples) Act means
that same sex couples can marry.
Ironically, that colonial history of homophobia has now been co-opted in the name of African nationalism. Homosexuality, says Zimbabwe's Robert Mugabe, is "un-African". Yoweri Museveni, Uganda's president, describes homosexuality as a decadent culture from the west. Again, as in Russia, a mix of religious beliefs, (further encouraged by some western evangelical churches), cultural identity and the dubious value to politicians of exacerbating fear of "the other" to distract from the desperate concerns of a failing state have fed into the current outbreak of homophobia.
Apart from the severe attack on human rights that this represents, there is also the impact on the spread of HIV and Aids among people too fearful to seek treatment. What's to be done? Stonewall urges pressure through diplomacy and the threat of withdrawal of international investment and aid, weapons that should be used with real intent. Richard Branson
decided not to invest in Uganda
and has called for a boycott of homophobic countries. Dr Alan Wilson, the bishop of Buckingham, last year urged his church to end its own equivocation on the homophobia displayed by many Christians in Africa. Homosexuality, he wrote, should be viewed an "a phenomenon of nature, not an offence against it".
More immediately, from this week in Sochi, every celebratory same-sex kiss on the winners' podium, every one-man or -woman protest, every rainbow flag waved and pro-gay rights slogan displayed is a gesture of solidarity for those desperately under siege in Russia. Such signals will also act as a timely reminder for the global audience of the
Winter Olympics
of the international pledge, that: "All human beings are born equal in dignity and rights."
• Comments will be turned on on Sunday morning
Read the whole story
· · · ·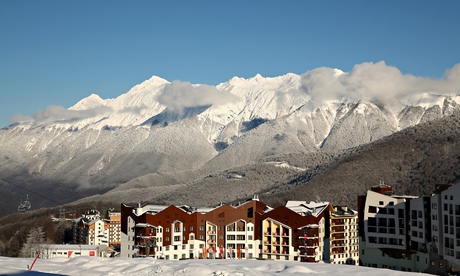 As the Sochi Winter Olympics approach, new footage has emerged of anti-gay attacks in Russia. Photograph: Cameron Spencer/Getty Images
Shocking footage of the violent groups that target gay men and lesbian women in
Russia
will reveal the dangerous levels of homophobia in the country in the runup to the Sochi
Winter Olympics
this week.
A Channel 4 documentary,
Hunted, to be broadcast in the Dispatches
strand on Wednesday at 10pm, will include the first television reporting of the concerted intimidation and humiliation carried out by the anti-gay groups Parents of Russia and Occupy Paedophilia.
"We filmed these groups with their knowledge, and what I found shocking afterwards was that only a few asked to have their faces disguised. They all believe they are doing the right thing," said Liz Mackean, the investigative journalist who travelled to Russia to make the film for C4.
"Occupy Paedophilia has groups in more than 30 cities. They operate with impunity and under the cover of the remarks [Vladimir] Putin has made suggesting that children are at risk from homosexuals," Mackean added. The film shows the gangs using the internet to lure potential victims to meetings, before threatening violence to force confessions or humiliating acts. One victim is persuaded to dance and is filmed for the internet.
"Occupy Paedophilia deliberately blurs the lines between paedophilia and homosexuality," said Tom Porter, commissioning editor of the documentary. "During one of the filmed incidents of humiliation, the group asked our cameraman and director, Ben Steele, to stop filming, but he continued partly because he was concerned that if he stopped there would be violence."
In another sequence, Timur Isav, a self-styled crusading member of Parents of Russia, is shown attending a lesbian and gay event and handing out bags containing a length of rope, with the intention of suggesting they commit suicide.
C4 is also broadcasting the Paralympic Winter Games in March. "It just shows the way a broad channel like Channel 4 can exist," said Porter. "We are doing our investigation, while over in sport they are doing the Winter Games."
Mackean said the gay Russians she interviewed were against a boycott of the Games, because they feared it would lead to increased reprisals.
International human rights groups plan to step up their protests against Russia's anti-gay laws during the event in a bid to reverse legislation that they say is responsible for a dramatic rise in homophobic attacks.
Athlete Ally
, an organisation focused on ending homophobia and transphobia in sports, is among the organisations that have called for worldwide peaceful action on Wednesday as part of a "Global Speak Out" event in support of Russian LGBT people. Wesley Adams, chief operating officer at US-based campaign group All Out, who is co-ordinating the Speak Out protests, called for everyone to wear red clothing at the events – a colourful move echoing the German national team's decision to wear rainbow-coloured kit for the Games. Adams said he wants protests to take place not just at embassies but anywhere "that refers to Russia in a positive way".
Referring to the Principle Six campaign – named after the clause in the Olympic charter that supposedly guarantees non-discrimination – he said: "We also encourage people to use Principle Six messaging as a positive way to push Olympians, Olympic sponsors and the IOC to speak up.
"Principle Six of the Olympic Charter forbids discrimination of any kind, including based on sexual orientation. The Principle Six campaign uses the language of the charter to give athletes and fans a way to speak out against discrimination before and during the Sochi Olympics without breaking Russian anti-gay laws or violating the Olympic ban on political speech."
Gay rights
campaigner Peter Tatchell, who will be attending the London protest at Downing Street on Wednesday evening, condemned "cowardly" Games sponsors, such as McDonald's, Coca-Cola and Visa, for not speaking out.
He said: "None of the corporate sponsors have explicitly condemned the Russian anti-gay law or homophobic violence in Russia. They've made only general, vague equality statements. This isn't good enough. They seem more interested in safeguarding their Russian sales than in standing up for human rights.
"I would have expected them to make a simple statement such as: 'We are deeply concerned about new Russian legislation that discriminates against the LGBT community. We deplore the homophobic violence that is taking place in Russia.' It is shameful and cowardly that they feel unable to say this."
Tatchell compared the Sochi Games with the 1936 Olympics in Berlin. "The 1936 Olympics took place in an atmosphere of antisemitic hatred incited by the Nazi government. The 2014 Sochi Olympics echo that hatred, only this time the victims of demonisation are LGBT people. There are no Nuremberg laws or concentration camps, but the hateful anti-gay propaganda is similar to the antisemitism stirred by the Nazis in the early 1930s. How can there be normal sporting relations with an abnormal regime like Putin's Russia?"
Human Rights Watch will continue to lobby officials behind the scenes this week. Hugh Williamson, director of the NGO's
Europe
and Central Asia division, said staff will be present at the Games getting information "on the ground" and commenting on developments.
He said: "We will continue to publish research, and lobby the IOC and Russian Olympic committee, as well as working with other LGBT groups all the way up to the Games."committee, as well as working with other LGBT groups all the way up to the Games."