Arguing against that notion, he cited climate change, which he called "the global threat of our time," international terrorism, poverty and intolerance as challenges that only collective action by the United States and its European allies can solve.
"People often come together in places like this to remember history, not to make it," Obama told an audience of 4,500 invited Germans, who filled Pariser Platz on the eastern side of the Brandenburg Gate. "But I come here today, Berlin, to say complacency is not the character of great nations. Today's threats are not as stark as they were half a century ago. But the struggle for freedom and security and human dignity, that struggle goes on."
Obama's half-hour address received a polite, if far from electric, response from the sweltering crowd, who during a festival-like pre-speech program were treated to live violin renditions of music by Michael Jackson, Bruce Springsteen and Beethoven.
For Obama, the speech was also a return to a venue that helped define his 2008 candidacy and the hope it represented for a new style of American leadership after the George W. Bush administration, which saw Europe as more of an obstacle than an ally on national security challenges after the Sept. 11, 2001, attacks.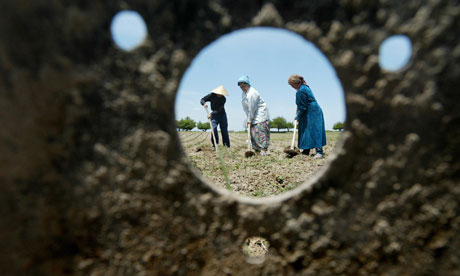 Uzbeks work in fields outside Tashkent, Uzbekistan, which has been criticised for 'subjecting its citizens to forced labour'. Photograph: Denis Sinyakov/AFP/Getty Images
It has downgraded China, Russia and Uzbekistan to tier three, the report's lowest ranking, reserved for countries whose governments do not fully comply with the Trafficking Victims Protection Act and are not making significant efforts to do so.
The relegation was attributed to continued failure to stop the routine complicity of officials in trafficking crimes, state-sponsored slavery and widespread forced labour, sexual exploitation, and enslavement of nationals and foreign nationals in the three countries.
The report, which has been published since 2001 and is the US' principal diplomatic tool to engage foreign governments on human trafficking, paints a damning picture of conditions of modern slavery in the three countries. China is criticised for perpetuating human trafficking in 320 state-run institutions and the widespread domestic trafficking of girls and women into forced prostitution. In Russia, an estimated 1 million people are exposed to exploitative labour, including forced labour used in the construction of the Winter Olympic park in Sochi, according to the report.
"What we have seen in all three of these countries has been stagnation in efforts and the continuation of issues such as conflated human trafficking and child abduction in China and the continued use of forced labour in Uzbekistan," said Luis CdeBaca, the US state department's ambassador-at-large to monitor and combat trafficking in persons. "With this report, the rankings follow the results and at some point the waivers run out."
The report reveals pitifully low global figures for the prosecution and conviction of trafficking criminals and identification of people who have been trafficked.
Global prosecutions of traffickers rose by about 10% from 2012-13, but totalled only 7,705 cases, with 4,746 resulting in a conviction.
Relegation into tier three ranks China, Russia and Uzbekistan among the countries with the worst records on human trafficking, including Zimbabwe, Saudi Arabia and Yemen. Under US law, it could trigger non-trade related sanctions, leading to restrictions on US foreign assistance and access to global financial institutions such as the World Bank.
This year's report is the first to be released under the new US secretary of state, John Kerry. The decision to downgrade China, Russia and Uzbekistan was hailed as "brave" by anti-trafficking campaigners in the US, who had feared that diplomatic pressure, especially from China and Russia, and a reluctance to be seen as a self-appointed watchdog would influence the rankings.
"Any decision to downgrade represents a significant degree of political courage on behalf of secretary Kerry as neither Russia or China take kindly to criticism from the west," she said.
However, although the report is widely acknowledged as the most influential catalogue of anti-trafficking initiatives by governments, the impartiality of the ranking system has faced criticism.
"This is because the ranking is inevitably coloured by US foreign and strategic interests, and this can give a get-out-of-jail-free card to some countries which are failing to protect their citizens from slavery, meaning that they do not get the bad ranking that they truly deserve."
Other countries including Iraq, Azerbaijan and Congo-Brazzaville escaped relegation, due to what CdeBaca called "concerted efforts on the behalf of their governments to address the problem of human trafficking".
Afghanistan, Barbados, Chad, Malaysia, Maldives and Thailand are facing an automatic downgrade to tier three in the next report if significant progress is not made before the end of the year.
Afghanistan was granted a waiver from an automatic downgrade to tier three despite widespread internal trafficking, government complicity in trafficking rings, and reports of police officers raping and imprisoning trafficking victims.
Read the whole story
· · · ·
ST. PETERSBURG, Russia — For more than a dozen years, it has been impossible to miss Russia's soaring, often ostentatious, energy wealth — the flashiness of Moscow, the 250-foot yachts and the hundred-million-dollar penthouse apartments for the children. And the riches have hardly been confined to the private sector. Last year, when Vladimir V. Putin wanted to shore up support ahead of Election Day, the salaries of government workers jumped; military pay actually doubled.
Those heady days seem to be running out, however. The great gush of oil and gas wealth that has fueled Mr. Putin's power and popularity and has raised living standards across Russia is leveling off. Foreign investors, wary of endemic corruption and an expanding government role in the economy, are hanging back, depriving the economy of essential capital.
In many respects, analysts say, the same iron fist that Mr. Putin wielded to public approval in the early years of his presidency could be the biggest obstacle to a badly needed economic restructuring, and potentially even turn public opinion against him.
Russia's economy, the world's eighth largest, slowed to a near standstill in the first months of this year, and the Kremlin is now preparing to dip into its $171 billion rainy day fund in a bid to spur growth. But the problems for Russia's economy run deeper than its overwhelming dependence on oil and gas revenues, which now account for more than half the federal budget.
Despite the conspicuous consumption of oligarchs and the growing middle class in Moscow, most of Russia's goods-producing economy has been languishing for decades. Many provincial cities and towns have grown shabby, the factories that sustained them decrepit. Young people have moved away.
With flattening revenues, the government badly needs to attract foreign capital, but the Kremlin's recent move to tighten its grip on the oil industry through Rosneft, the national oil company, is just the latest warning flag to potential investors.
"The fundamental problem in this economy is still the politics of the country," said Bernard Sucher, the former head of Merrill Lynch in Russia, who serves on the board of Aton, an investment company.
"The way power is organized in this country dooms the economy to underperformance," he said. "The state is too big, it's involved in too many areas of activity, and involving itself in too many more areas of activity, and by its nature discourages private investment."
As Russia's senior political officials, business leaders and foreign investors convened here in St. Petersburg on Thursday at an economic forum that serves as an annual gathering of the country's top financial minds, the task facing Mr. Putin was how to create sustainable growth in a country where commodities, taken together, now account for 80 percent of exports.
Some experts at the forum said they were confounded by Russia's contradictory problems: low growth and high inflation. "Financial policy is weird," said Yu Yongding, a senior fellow at the Institute of World Economics and Politics in Beijing. He was on a panel with Elvira Nabiullina, an aide to Mr. Putin who has been tapped to lead Russia's central bank, and Russia's economic development minister, Andrei Belousov.
"Where is your industry?" Mr. Yu asked. "You can produce super excellent jet fighters, but what else?"
Energy prices, while still relatively high, are expected to flatten or decline in the years ahead. Gazprom, the Russian energy behemoth, has been cutting prices and renegotiating contracts, under pressure from cash-poor clients in Europe and rising competition globally, caused in part by market shifts like development of American shale gas.
Discounts to customers cost Gazprom $4.2 billion, or about 7 percent of pretax earnings, according to Renaissance Capital, an investment bank. Oil revenues are also projected to decline long-term as production grows more costly and new technology curbs demand.
Read the whole story
· · ·
Next Page of Stories
Loading...
Page 3