- Командир, ручка от жопы отваливается!
- Ништяк, а мы её стразами укрепим!
Next Page of Stories
Loading...
Page 2
Task force at the center, once headed by Bruce Ohr, now directed by Deputy AG Rosenstein
The Organized Crime Drug Enforcement Task Forces (OCDETF) program was established in 1982 as a means to combat increasingly organized drug traffickers.
The program is an unusually broad coalition that, as noted by former Attorney General Jeff Sessions, "brings together just about every federal law enforcement agency there is. It's the Swiss Army knife of law enforcement."
"MS-13 sells drugs, but they are not primarily a drug-trafficking organization. I have ordered OCDETF to prioritize MS-13 not because of their drug trafficking—but because OCDETF is such a powerful weapon.
"OCDETF is able to hit MS-13 from all angles."
It would later be learned that Ohr's wife, Nellie Ohr, worked for Fusion GPS, the firm that hired Steele to produce the dossier.
Hezbollah Investigation
Begun in 2008, after the DEA amassed evidence that Hezbollah was engaging in drugs and weapons trafficking, along with other crimes, the investigation traced its way to the "innermost circle of Hezbollah and its state sponsors in Iran." According to the Politico report, "Hezbollah's network moved metric ton quantities of cocaine [to] launder drug proceeds on a global scale, and procure weapons and … explosives."
It was at this point that roadblocks began to appear:
"As Project Cassandra reached higher into the hierarchy of the conspiracy, Obama administration officials threw an increasingly insurmountable series of roadblocks in its way… When Project Cassandra leaders sought approval for some significant investigations, prosecutions, arrests, and financial sanctions, officials at the Justice and Treasury departments delayed, hindered or rejected their requests."
"Under the Obama administration … these [Hezbollah-related] investigations were tamped down, for fear of rocking the boat with Iran and jeopardizing the nuclear deal."
"While I am hopeful that there were no barriers constructed by the last administration to allowing DEA agents to fully bring all appropriate cases under Project Cassandra, this is a significant issue for the protection of Americans. We will review these matters and give full support to investigations of violent drug-trafficking organizations."
"HFNT prosecutors and investigators are tasked with investigating individuals and networks providing support to Hezbollah, and pursuing prosecutions in any appropriate cases. The HFNT will begin by assessing the evidence in existing investigations, including cases stemming from Project Cassandra, a law enforcement initiative targeting Hezbollah's drug trafficking and related operations."
"In an effort to protect Americans from both threats, the Justice Department will assemble leading investigators and prosecutors to ensure that all Project Cassandra investigations as well as other related investigations, whether past or present, are given the needed resources and attention to come to their proper resolution. The team will initiate prosecutions that will restrict the flow of money to foreign terrorist organizations as well as disrupt violent international drug-trafficking operations."
• MS-13,
• Cartel de Jalisco Nueva Generacion, or CJNG,
• the Sinaloa Cartel,
• Clan del Golfo, and
• Lebanese Hezbollah.
Sessions selected the five groups based on recommendations he received from the FBI, DEA, OCDETF, and the DOJ's Criminal Division.
Sessions singled out Hezbollah for additional focus in his discussion and specifically noted the previously created HFNT task force:
"The subcommittee on Lebanese Hezbollah will be led by Assistant U.S. Attorney Ilan Graff of the United States Attorney's Office for the Southern District of New York. AUSA Graff is overseeing the prosecution of two alleged members of Hezbollah's External Security Organization, the first such operatives to be charged with terrorism offenses in the United States.
"This subcommittee will be led and staffed by members of the Hezbollah Financing and Narcoterrorism Team, which is a group I created in January.
"This team is composed of experienced international narcotics trafficking, terrorism, organized crime, and money-laundering prosecutors who are tasked with investigating individuals and networks providing support to Hezbollah."
As part of his announcement, Sessions also announced the formation of a "transnational organized crime task force of experienced prosecutors" tasked with coordinating the government's efforts and developing plans to "take each of these groups off of our streets for good."
Rosenstein Takes Over
Sessions had, to this point, been the man directing the OCDETF's efforts. Concurrent with his Oct. 15th announcement, Sessions appointed Deputy AG Rosenstein to lead the new transnational task force and direct OCDETF's actions. Working underneath Rosenstein are separate subcommittees for each of the target groups, each led by an experienced prosecutor.
This was a major assignment, given the priority that President Donald Trump has given to the topic. It also appeared to indicate a shifting of responsibility as Sessions had previously been leading the prosecutorial effort on MS-13. Notably, the appointment occurred after Trump's Oct. 8 affirmation of Rosenstein, following their meeting on Air Force One.
Targeting Mexican Drug Cartels
"In Venezuela, President Hugo Chavez was personally working with the then-Iranian president, Mahmoud Ahmadinejad, and Hezbollah on drug trafficking and other activities aimed at undermining U.S. influence in the region, according to interviews and documents."
"Venezuelan cocaine exports skyrocketed from 50 tons a year to 250, much of it bound for American cities."
Other Key Investigations
The four men, three of whom have been arrested, have been charged with wire fraud and conspiracy to commit tax evasion and money laundering. The DOJ release notes the following:
"For decades, the defendants, employees and a client of global law firm Mossack Fonseca allegedly shuffled millions of dollars through offshore accounts and created shell companies to hide fortunes. In fact, as alleged, they had a playbook to repatriate un-taxed money into the U.S. banking system. Now, their international tax scheme is over, and these defendants face years in prison for their crimes."
Mueller had previously referred both cases to the Southern District of New York as they fell outside of the scope of his investigation, but news regarding both cases has become limited in recent months.
According to AP, DOJ prosecutors had begun the process of interviewing witnesses and reportedly contacted lawyers to schedule new questioning relating to both companies.
Alexander Downer, the Australian diplomat who met with Trump campaign adviser George Papadopoulos in London, was a board member of Huawei until 2014, when he accepted the top diplomat post to London.
According to court filings, "from January 2013 until February 2017, Veytia used his official position as State Attorney General to assist and abet drug-trafficking organizations operating in the Mexican State of Nayarit in exchange for bribes."
"He told the jurors stories not only about the drug lord's operations in Mexico, Honduras, and Belize, but also about his suppliers, distributors, bodyguards, assassins, cousins, brothers, and sons."
"He also said that his father routinely bribed a military officer who once served as a personal guard to Mexico's former president, Vicente Fox."
"Mr. Guzmán made an astonishing proposal: He offered to reach out to his "contacts" in the Drug Enforcement Administration and see if they would meet with the young man.
"American authorities have acknowledged that within two years of floating the idea of leaving the cartel, Mr. Zambada sat down with agents from the D.E.A. at a clandestine meeting in Mexico."
Although details remain murky, in 2011, Zambada's lawyer presented his version of events, noting, "the United States government entered into a conspiracy with one of the largest drug cartels in the world."
These streams of indictments, although seemingly unrelated, are linked through commonalities in the borderless drug trade and money-laundering operations.
Hopefully, someone is asking Bruce Ohr some hard questions concerning Project Cassandra, the international drug trade, and U.S. government involvement during the Obama administration.
Read the whole story
· · · · · · · · · · ·
Next Page of Stories
Loading...
Page 3
Signed in as
Michael_Novakhov
Share this story on NewsBlur
Shared stories are on their way...
Rep. Jerry Nadler, the incoming chair of the House Judiciary Committee; Rep. Elijah Cummings, D-Md., the incoming chairman of the House Oversight Committee; and Rep. Adam Schiff, D-Calif., the incoming chairman of the House Intelligence Committee are readying to launch a slew of Trump administration investigations. (AP, Getty, Reuters)
They're about to get subpoena power – and they plan to use it.
As Democrats officially take back control of the House when the new Congress is seated Thursday, newly empowered House Committee chairmen are preparing to launch a slew of Trump administration investigations.
Those Democrats armed with subpoena power include Rep. Jerry Nadler, the incoming chairman of the House Judiciary Committee; Rep. Elijah Cummings, D-Md., incoming chairman of the House Oversight Committee; and Rep. Adam Schiff, D-Calif., incoming chairman of the House Intelligence Committee.
In a press release Wednesday, Cummings said his committee plans to "investigate waste, fraud, and abuse in the Trump Administration," as well as "other issues that affect the American people every day."
The looming congressional probes amount to another front in President Trump's ever-expanding battle with institutions ranging from the mainstream media to Special Counsel Robert Mueller's investigation -- all coming as Democrats flirting with a 2020 bid also train their political sights on the administration. Areas of interest probed by these committees could cover everything from Trump's ousting of Attorney General Jeff Sessions to Trump's past tax returns as a businessman to Trump's relationship with adult film star Stormy Daniels.
House Democrats campaigned on using a new majority to push back against the Trump administration. While their most pressing issue will be trying to find a way out of the partial government shutdown that's been in effect for nearly two weeks, scrutiny of the Trump administration will be next up on the list of priorities.
For his part, the president kicked off the new year expressing optimism, even as he faces the new political reality of divided government.
"2019 will be a fantastic year for those not suffering from Trump derangement syndrome," the president tweeted Tuesday. "Just calm down and enjoy the ride, great things are happening for our country!"
But after November's elections, Trump fired a warning shot at Democrats, declaring he would turn the tables and leverage his party's Senate majority to investigate Democrats if they go that route.
"I think I'm better at that game than they are, actually, but we'll find out," the president said at a post-election news conference.
He also tweeted: "If the Democrats think they are going to waste Taxpayer Money investigating us at the House level, then we will likewise be forced to consider investigating them for all of the leaks of Classified Information, and much else, at the Senate level. Two can play that game!"
There's certainly precedent to the opposition party winning back control of the House and becoming a major thorn in the side of the president -- most recently in 2010, when Republicans rode the Tea Party wave to a House majority.
That 2010 win ignited a slew of investigations on the House Oversight Committee, under Republican chairmen Darrell Issa and Jason Chaffetz, of Obama-era scandals, including the Benghazi attacks, the Fast and Furious operation and the IRS targeting of conservative groups.
As for probing the Trump administration, a senior Democratic source told Axios, which published 85 potential Trump-related targets after November's elections, that they are preparing a "subpoena cannon."
Speaker-designate Nancy Pelosi has said that unearthing Trump's personal tax returns would be "one of the first things we'd do," calling it the "easiest thing in the world" to obtain them using statutory authority granted to congressional committees under the Internal Revenue Service code. Democrats made several efforts to obtain Trump's returns while in the minority, only to be rejected by House Republicans.
Trump would likely seek to stall those requests with legal challenges, and it remains unclear whether Democrats could publicly release his tax returns even if they obtained them for investigative purposes.
As the incoming chairman of the Oversight Committee, Cummings, D-Md., is set to have broad investigative power in the House.
In December, Cummings sent 51 letters to various federal agencies and the White House requesting documents about security clearances, the Trump Organization's work with foreign entities and scandals that plagued the Environmental Protection Agency when Scott Pruitt was at its helm. In his request, Cummings noted the committee's Republicans had previously requested such documents but "the Trump administration refused to comply."
House Oversight Committee Democrats have also indicated they will investigate Ivanka Trump and her husband Jared Kushner's use of private email accounts for official White House business, re-launching a 2017 probe into whether Trump administration officials are complying with the Presidential Record Act.
As the chairman of the House Intelligence Committee, Schiff, D-Calif., hopes to protect Mueller's Russia probe, including examining conversations Donald Trump Jr., the president's eldest son, had with a Russian official as well as potential money laundering by Russians through the Trump Organization.
With Mueller expected to submit a report detailing his investigation of the Trump campaign during the 2016 election, it remains possible Democrats could consider an attempt to impeach Trump. As the incoming chair of the House Judiciary Committee, Nadler would lead the panel that could begin that process.
But Nadler, as well as other party leaders, have not yet embraced that route.
"You don't want to have a situation where you tear this country apart and for the next 30 years half the country's saying, 'We won the election, you stole it,'" Nadler said last year.
Fox News' Kaitlyn Schallhorn, Gregg Re and The Associated Press contributed to this report.
Read the whole story
· · · · ·
The Secret Surrender

:

The Classic Insider's Account of the Secret Plot to Surrender Northern Italy During WWII
Lyons Press
, 2006 -
History
-
232 pages
On April 17, 1945, Adolph Hitler sent a memorandum to a German general who wanted to fall back to a more advantageous position in Northern Italy: "The Führer expects the utmost steadfastness to defend every inch of the North Italian area entrusted to your command. I desire to point out the serious consequences for all those higher commanders who do not carry out the Führer's orders to the last word." Such was Adolph Hitler's insane directive and unambiguous threat to anyone who contemplated anything other than Hitler's last-man defense. But Allen Dulles, who worked in Switzerland for "Wild Bill" Donovan's OSS-the precursor to the CIA-was conducting Operation Sunrise, a secret plot to effect the surrender of Nazi and Fascist troops in Italy.
Dulles guided the delicate, top-secret negotiations in Switzerland. In an immediate, personal, and page-turning narrative that has all the hallmarks of
a suspense novel, Dulles reveals the extraordinary details of one of the most successful intelligence operations of all time.
In The Secret Surrender, Dulles re-creates the climate of paranoia and terror that paralyzed the German top military command, vividly conveying the hidden antagonisms of important Nazis concerned for their personal safety. He describes the hazards of keeping channels of communication with the SS general in Italy who defied Hitler's "scorched earth" command, and recounts the tension-packed weeks during which Allied support of the surrender plan was secured in spite of Stalin's plot to wreck the enterprise.
The Secret Surrender conveys the breathless excitement of a fictional thriller, and furnishes valuable firsthand insight into one of the most dramatic events in World War II.
Read the whole story
· · ·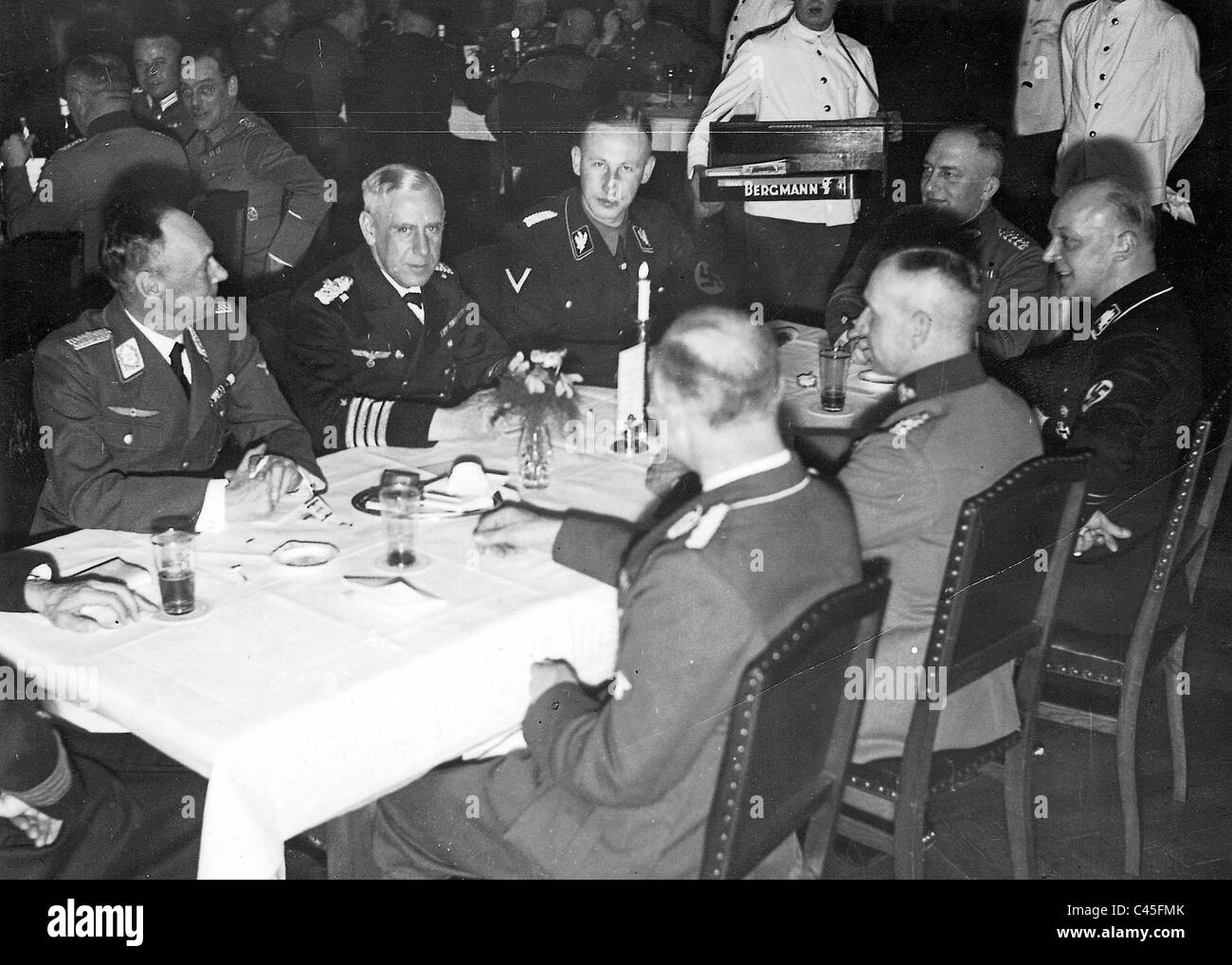 M.N.: It looks, psycho-historically, and hermeneutically, that Canaris and Heydrich were gay lovers, in addition to being at least part-Jewish, each.
It also looks like Heydrich was either kidnapped or killed by Canaris, in the meticulously planned and executed Prague attack of 1942. The comic, farcical replay of this hypothetical and "dramatic" affair could be seen in in the historical Cohn – Schine duo, and possibly in its later follow-ups.
"It is amazing
his reign of supporting the allies and feeding valuable information to them allowed him to survive so long as he did. His biographer Richard Bassett rightly points out that, "Canaris bore a charmed life," but what of Himmler and Heydrich and their fraught relationship with the Admiral. Again Bassett writes, "Himmler had a superstitious respect for Canaris." This does sound an odd choice of words to describe someone. And also why was the Admiral, Heydrich's preferred choice to head the Abhwer? Indeed was there perhaps some Masonic affection about this or something more personal that existed between these ambitious men of the Militarily Reich.
Also mention of Heydrich and of his own sexuality cannot be ruled out within the upper ranks of the Nazi party, even then homosexuality was rife. It could be argued that not only did Canaris have information on Heydrich's sex life, could not the same damaging material be used by Heydrich against Canaris.
(One Intelligence chief who heard the two men bickering observed: "It was a bit like a lovers tiff.") And although Canaris was married with young daughters we learn that in his office hung a picture of his predecessor Conrad Patzig, again rumours of his homosexuality were frequently washed up at his own front door. Canaris was certainly genuinely moved to tears at Heydrich's funeral when we read: "He had, however also lost someone he had undoubtedly once loved as a protege," again so writes Richard Bassett in
Hitler's Spy Chief.
It was also bizarre that Canaris seems to have been charmed in particular by a young Hungarian officer whose photograph of this young man adorned his desk. All very questionable behaviour for a married man with a young family, but then these were strange times that the world at war was experiencing."
M.N.: Cohn looks suspiciously like J.E. Hoover, and Schine looks like Robert Kennedy, who was the first candidate for Cohn's job of McCarthy's henchman, but was passed up because the Jew should fit this role, according to the Abwehr's script. They served as the covers and fronts for the real players. It also confirms my long held suspicion that the American news media, "Times" magazine included, at that time and now were controlled not by the Jewish but by the German money, the stolen Nazi gold, rationally and strategically invested in the future information wars, in addition to its primary purpose of funding the long-term Abwehr's operations.
I also would not be surprised if such a famed escape artist as Canaris (likely, in company with Hans Oster) escaped the WW2 unharmed and well positioned to lead these operations.
______________________________
Mike Nova's Shared NewsLinks
Read the whole story
· · · · · · · · · · · · · · · · · ·
Chicago Tribune
-
Dec 27, 2018
The new information regarding the recovery of
Cohen's cellphone
... Mueller had obtained evidence
Cohen
traveled to
Prague
from
Germany
in ...
Next Page of Stories
Loading...
Page 4
WASHINGTON (Reuters) - The U.S. special counsel in the Russia probe has evidence that President Donald Trump's personal lawyer Michael Cohen traveled to Prague in 2016, refuting Cohen's claim that he never visited the Czech capital and bolstering an intelligence dossier that first described the trip, McClatchy reported on Friday.
Investigators for Special Counsel Robert Mueller have evidence Cohen entered the Czech Republic through Germany in late summer 2016, McClatchy reported, citing two unnamed sources. The news agency said it was unclear whether Mueller's investigators have evidence that Cohen met with a prominent Russian as the dossier claimed.
Mueller is investigating alleged Russian interference in the 2016 U.S. presidential election and possible collusion with the Trump campaign. Russia has denied meddling in the election and Trump has said there was no collusion.
The special counsel and an attorney for Cohen did not immediately respond to requests for comment from Reuters.
The dossier by former British intelligence agent Christopher Steele alleged that Cohen met in Prague with Russians with ties to Russian President Vladimir Putin.
Agents with the Federal Bureau of Investigation raided Cohen's New York office and home this week, partly based on a referral from Mueller.
They were seeking information on payments made by Cohen to porn star Stormy Daniels, who has said she had sex with Trump in 2006, a person familiar with the matter said.
Investigators have also looked for a possible broader pattern of fraud, tax evasion, money laundering and other crimes in Cohen's private dealings, including his work for Trump and real estate purchased by Russian buyers, the person said.
(Reporting by Eric Beech)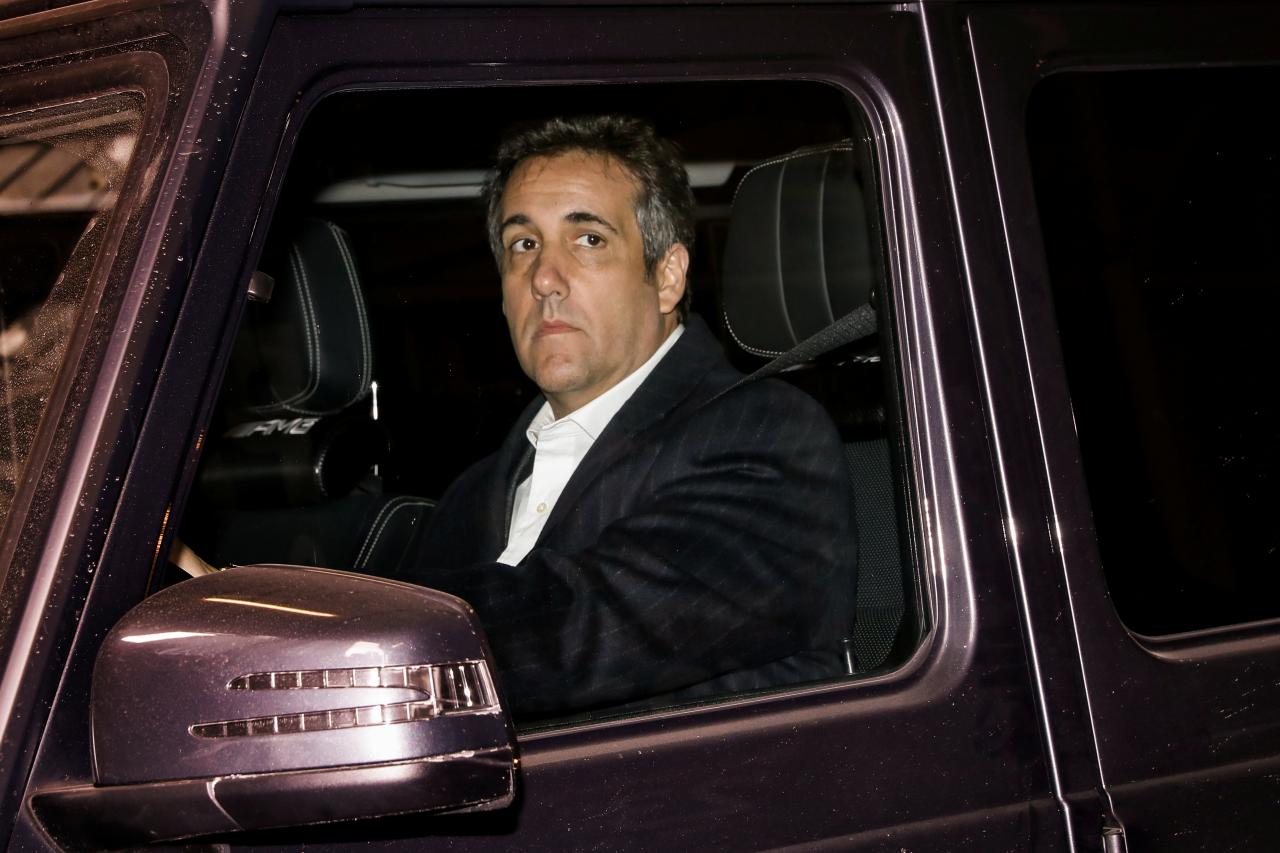 Reuters
A long-chewed-on mystery about Michael Cohen's activities in the Trump-Russia conspiracy may now be resolved, thanks to data leaked by Cohen's cellphone. Operational security will get you every time, dumb criminals.