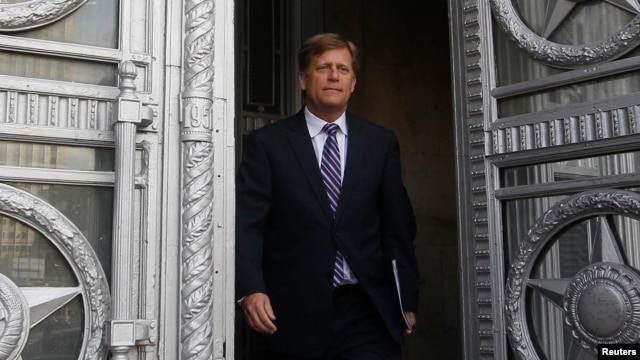 U.S. Ambassador to Russia Michael McFaul leaves the Foreign Ministry headquarters in Moscow. Analysts tell RFE/RL that he did well in his tenure during a difficult period in bilateral relations.
»
Recalling McFaul: Four Views On Outgoing U.S. Ambassador To Russia
04/02/14 16:00 from Radio Free Europe / Radio Liberty
U.S. Ambassador to Russia Michael McFaul has announced that he is stepping down and returning home following the Winter Olympics in Sochi. RFE/RL spoke to two former U.S. ambassadors to Russia and two prominent foreign-affairs analysts a...
»
McFaul to quit as U.S. Russia ambassador after conclusion of Sochi Olympic Games
04/02/14 15:09 from Europe News: News and Headlines from Europe - The Washington Post
SOCHI, Russia — U.S. Ambassador Michael McFaul, the architect of President Obama's effort to reset American relations with Russia , said Tuesday he would leave his post at the conclusion of the Olympics to return to Stanford University. ...
»
After Rocky 2 Years, McFaul Quits as Ambassador
04/02/14 16:00 from The Moscow Times Top Stories
Michael McFaul, who has served as U.S. ambassador to Russia over a two-year period marked by heightened tensions between Washington and Moscow, announced in a blog post Tuesday that he would be leaving his position as ambassador and retu...
»
Hundreds Evacuated After Russian Train Carrying Gas Derails
05/02/14 07:04 from Radio Free Europe / Radio Liberty
Hundreds of local residents have been evacuated after several dozen railcars carrying concentrated gas derailed and caught fire in the Russian city of Kirov, some 800 kilometers northeast of Moscow.
»
Russia: 32 Railcars Carrying Gas Derail, on Fire
05/02/14 06:22 from NYT > Europe
Russia's Emergency Situations Ministry says several dozen railcars carrying gas have derailed and caught fire northeast of Moscow, prompting the evacuation of hundreds of local resident.
»
Nearly 700 Evacuated After Gas Tanks Explode on Train
05/02/14 05:50 from The Moscow Times Top Stories
Nearly half of a Russian freight train's 65 cisterns carrying natural gas through the Kirov region exploded around 4:30 a.m. Wednesday in a derailment that prompted the evacuation of nearly 700 nearby residents, authorities said.
»
Bloggers Increasingly Face Violence, Legal Cases, Report Says
05/02/14 05:35 from The Moscow Times Top Stories
A report released by a human rights group said that Russian bloggers have been increasingly subject to criminal prosecutions, physical violence, and administrative measures - such as the restriction of internet access - Radio Liberty rep...
»
UN Panel: Russia Should Annul Gay 'Propaganda' Law
05/02/14 07:16 from NYT > Europe
A U.N. committee on children's rights is urging Russia to repeal its law banning pro-gay "propaganda" that could be accessible to minors.
M.N. comments: Bullshit from a Bullshitter, most likely arranged and paid by Russians:
»
Russia's anti-gay law is wrong – but so is some of the criticism from the west | Marc Bennetts
05/02/14 01:59 from World news: Russia | guardian.co.uk
Sochi gay rights protesters may have noble intentions, but they are playing into Putin's hands The ferocious row over the Kremlin's notorious anti-gay law in the run-up to the Sochi Olympics has sparked a bout of Russia-bashing that is n...
_____________________________________________________________________________________________
»
Sports of The Times: Terrorism and Tension for Sochi, Not Sports and Joy
04/02/14 23:15 from NYT > Europe
Never before has the pre-Olympic chatter been less about the athletes or the sports. And never before has the conversation leading up the Games been so grim.
»
Chemical Weapons Deal Strengthened Assad: U.S. Intel Chief
04/02/14 15:04 from NYT > Europe
Last year's agreement to eliminate Syria's chemical weapons left President Bashar al-Assad in a strengthened position, and there appears little chance rebels will soon force him from power, the U.S. intelligence chief told Congress on Tu...
»
U.S. Spy Chief Says Assad Has Strengthened His Hold on Power
04/02/14 22:01 from NYT > Europe
James R. Clapper Jr., the director of national intelligence, also said that President Bashar al-Assad of Syria had benefited from a deal to abandon his chemical weapons arsenal.
»
Scotland Becomes Seventeenth Country to Approve Same-Sex Marriages
04/02/14 17:49 from NYT > Europe
Scotland voted overwhelmingly on Tuesday to allow same-sex marriages, becoming the 17th country to give the green light to gay marriage despite opposition from its main church organizations.
»
Gay Norwegian Minister to Take Husband to Sochi Paralympics
04/02/14 16:00 from The Moscow Times Top Stories
Norway's health minister will make a point about gay rights in Russia by attending the Sochi Paralympics with his husband.
»
Draft Bill Proposes Ban on Surrogate Children for Single Men
04/02/14 16:00 from The Moscow Times Top Stories
A working group has prepared a draft bill that would ban single men in Russia from becoming fathers by surrogate mothers, a news report said Tuesday.
»
St. Petersburg Deputy Targets Online LGBT Community
04/02/14 16:00 from The St. Petersburg Times
A journalist from Nizhny Tagil, a city in the Central Ural 1,700 kilometers east of St. Petersburg, has been charged with promoting \"non-traditional relations\" among minors following a report by the St.